December 17th, 2009
Dr Petra
Tweet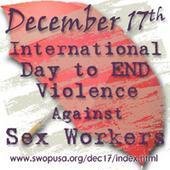 The aim of the International day to end violence against sex workers is to draw attention to abuse, harrassment and violence faced by sex workers – from the public, clients, and also from the state.
You can find out more about the history of the day and what it stands for courtesy of SWOP (Sex Worker Outreach Project), while SWAN (Sex Worker Rights and Advocacy Network) have released their research addressing human rights violations against sex workers in 11 countries. Called 'Arrest the violence' it speficially focuses on the physical and emotional violence often inflicted on prostitutes by state officials.

Cory Silverberg has a summary of some of the aims of the day, along with 10 tips from Annie Sprinkle about what you can do to mark the event and support sex workers. And launching today is a new venture from the Paulo Longo Research Initiative, bringing together academics, policy analysts and sex workers to focus on building research on sex work that is ethical, multi disciplinary and accurate. It's working under the umbrella of new directions in sex work and will be including sexuality, health, gender and human rights within its research framework that will include female, male and transgenders who sell sex.
At the close of a year that has seen our government make legal changes that will make prostitution more dangerous, based on personal beliefs rather than independent evidence, we need to focus even more than ever on the risks posed to those who sell sex – and find realistic ways to offer support to sex workers. In the UK, and internationally.
Tweet